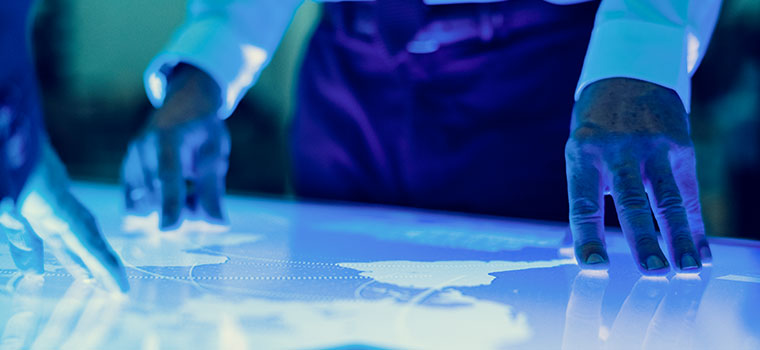 ROSEMARY G. FITZGERALD, PH.D., DIGITAL STRATEGIST | FOUNDING PARTNER
Dr. Fitzgerald is proud to see Spiderweb Studio's growth into a leading digital media company and the exciting launch in 2012 of the Mobile division, BerkAppGroup. These firms provide clients with a new vision for initiating a business transformation with the combined power of digital media and mobile.
As a partner in Spiderweb Studio, Dr. Rosemary Fitzgerald focuses on new product development and business innovation for a diverse client base. She brings extensive experience in the fields of Business Intelligence, Video and Social Media, and Mobile and Marketing Strategy. She has directed the worldwide deployment of numerous new media solutions across a broad range of industries.
BerkAppGroup was launched in early 2012 to focus solely on their client's high demand for unique mobile solutions. She is not shy about bragging about her team of passionate technologists who know that the future lies in mobile. The firm has already launched numerous successful applications and 2013 is proving to be an exciting year.
Before founding Spiderweb, Dr. Fitzgerald was a Senior Vice President of Media Development and eBusiness at Skila, Inc., a revolutionary company offering a proprietary knowledge management technology to the healthcare business to business vertical for garnering competitive intelligence.
Prior to this, Rosemary was Senior Vice President of Sales Technologies and Interactive Services at Gartner Group, a leading international research and advisory firm. Throughout her career, Dr. Fitzgerald designed and led teams launching innovative new business/sales tools, interactive multimedia production, product development, and marketing.
In addition to Dr. Fitzgerald's professional career, she is an Assistant Professor of Digital Media and Marketing at New York University's Graduate Integrated Marketing for over 15 years teaching a broad array of courses including Ecommerce, Digital Marketing, Marketing Finance and Advanced Technologies. She has designed over 20 courses for New York University, Touro College, Northwestern University and Johns Hopkins School of Nursing. She has conducted a Pro Vita course for Berkshire School on Blockchain Marketing and recently appointed as a Board of Trustee for Oxford Academy. She received her doctorate from the Communications Management and Technology program in the New York University's School of Communication. Prior to this, she received a master's degree from the Corporate Communications program at Ithaca College in Ithaca, New York.
MICHAEL TANG, CREATIVE DIRECTOR | FOUNDING PARTNER
In 1986, Michael Tang received his Bachelor of Science Degree in Electrical Engineer majoring in integrated circuit, and signal processing at Polytechnic University. This has created a solid technical background for the rest of his professional career.
He has 30 years of graphic and design experience ranging from print production, multimedia, and website design. He has founded Spiderweb Studio in 1997 leveraging his industry expertise to provide interactive consulting, and design services to a fledgling industry.
Prior to Spiderweb Studio, he was the creative director for Globix Corporation eCommerce department. During this productive period, he has implemented technical, and design solutions for clients as diverse as AOL, Major League Soccer, Razorfish, to start-up eCommerce websites.
Michael Tang has received a film-making certificate from New York University. He has written and directed several short films. His 16mm film "Painted Faces" was selected for the Film Festival at the Orlando Museum of Fine Art in 1994.
MICHAEL CERTOMA, DEVELOPER AND UI DESIGNER | SENIOR BUSINESS PARTNER
Michael Certoma is a key member of the Spiderweb Studio team. He is focused around server side development and UI design. Michael specializes in secure and scalable web applications such as project management systems, payment ledgers, and more. Michael has led our development and deployment of online channels for B2B and B2C both small and large platforms across all major CMS platforms: WordPress, Joomla, Drupal and Expression Engine. Michael provides strong leadership for the implementation of new technology trends in the areas of Site Security, SEO, Server Management. Michael also manages the technical support and management for Spiderweb Studio clients including hosting, security management, IT including general maintenance and development.
You can see his work on https://www.behance.net/TreyeDesigns and https://www.facebook.com/TreyeDesigns.
ANDRZEJ PIENCZYKOWSKI, TECHNICAL STRATEGIST | BUSINESS PARTNER
Andrzej is an accomplished information architect and technology executive experienced in setting and driving solutions as well as business strategy. Mr. Pienczykowski lends his technical and visual senses with a strong proficiency in organizational structures and usability. His broad expertise in maximizing return on technology investment, leading and directing teams, application and infrastructure architectures designed for performance, security and business continuity brings a great depth to the Spiderweb Studio team.
We are proud to have Andrzej as our technology lead with his thought leadership in knowledge management, information design, business intelligence and electronic publishing.
Among Andrzej's many accomplishments is a new venture in the sports industry which can be found at www.myvenuelive.com.
LEVI MERCIER, COMMUNICATION STRATEGIST
Levi oversees Spiderweb Studio communications and interactions with the public by implementing social media platforms' content strategies. His responsibilities include creative strategy, channel management, analyzing engagement data, identifying trends in customer interactions, and planning digital campaigns to build community online. Manage cross-channel programs to drive leads and build community.

More Info
Contact us for a complete list of
Spiderweb Studio's eLearning case studies.